Greetings SD50 Republican Patriots!
I know it may seem as if we have been fairly quiet, but the new crew at SD50 has been very busy these past few months.  Learning new systems, securing new office space, developing and learning existing procedures and policies.  Rome was not built in a day, as the saying goes.  We are working hard and want to work together with our constituents in SD50.  For now, we want to keep you abreast of some events, opportunities, and happenings around the metro. Here they are:
Apply to Edina High School's Legislation Action Committee - Deadline May 10th
We would love to see some members of SD50 Republicans apply to the Legislative Action Committee:
From Edina Public Schools:
Are you interested in leading advocacy efforts on behalf of EPS students? The Edina School Board developed a non-partisan Legislative Action Committee (LAC) to focus on issues impacting education in Minnesota and Edina Public Schools, specifically. The purpose of the LAC is to assist the Edina School Board in advocacy for education-related legislation. The LAC coordinates these advocacy efforts throughout the district by developing, proposing, and advocating for board-approved legislative positions with lawmakers. The deadline to apply is Wednesday, May 10.
We hope you apply!  It is important to have Republican voices as part of these committees.  Please reach out to us at SD50 if you have questions about this or if we can help you in any way.  [email protected]
CD 3 Convention - This SATURDAY, April 29th! Tickets Available at the Door
OFFICIAL 2023 CD3  CONVENTION CALL 
Pursuant to the provisions of the Constitution of the Third Congressional District Republican Party of Minnesota, the Third Congressional District Executive hereby officially calls for the 2023 annual convention to meet. The Third Congressional District Convention shall be composed of the delegates and alternates elected at the 2022 conventions of Senate Districts with precincts lying within the boundaries of the Third Congressional District.  Delegates and alternates from those precincts are hereby called to meet at:
Wayzata Central Middle School
305 Vicksburg Ln N, Plymouth ,MN 55446
On
Saturday April 29, 2023
Registration is open from 9:30 AM to 11:15 AM.
Convention convenes promptly at 11:00 AM
The Convention shall be held for the purpose of:
Considering amendments to the constitution/bylaw for The Third Congressional District
Electing Congressional District officers

Transaction of any other business as may properly come before the convention
Please check HERE for information on Convention Agenda, Rules, Candidates, and constitution/bylaws revisions.
Registration
Online pre-registration will be open until April 24, 2023 at 5:00 PM. Please scroll down to register below.
Online registration fee $40 for Delegates and Alternates . Guest 18 or older are $25.
At the door $50 for Delegates and Alternates. Guests will be $25.
For other information regarding this convention please contact: Randy Sutter, 3rd Congressional District Chair, [email protected]
The Third Congressional District Republican Party issues this convention call in the City of Edina, County of Hennepin, Minnesota, this eighth day of April 2023.
Randy Sutter, Chair
Third Congressional District Republicans
Prepared and paid for by the Third District Republicans of Minnesota, P.O. Box 390722, Edina, MN 55439
PLEASE NOTE
Water, coffee and doughnuts will be available in the morning. No lunch will be provided, and food is not permitted in the auditorium. There are vending machines in the cafeteria, or you may want to bring a snack and take a break during the session. 
Pints & Politics: Reclaim MN Conversations
Thank you for coming!  Our inaugural Reclaim MN Conversations at the Tavern on France was a huge success.  We had over 100 attendees and raised over $1,000. for SD50 from your generous donations.  
The purpose of theses events are:
1. To get to know other Republicans in our district and around the metro, 
2. To learn from each other and share resources , and
3. To raise funds for SD50 Republicans.  
When sending out invitations, we also will include our neighbors and friends from SD51, SD49, and SD46. Our event is open to anyone that wants to talk politics.  Independents too!  We have decided to rotate locations and venues to keep the event fresh, reach new members, and ideally support Patriot businesses.  The next Pints and Politics: Reclaim MN Conversations will be held in Bloomington.  Look for invitation with details forthcoming.  If you have location ideas, or if you would like to be a host of one of these events, please reach out to Sarah Knapp at [email protected]. Please note:  Individuals or a group of individuals may donate, companies may not donate or sponsor events to comply with campaign and political party rules and regulations.
Republican Seniors Meeting: May 9th
A champion of our values, John Helmberger from the Minnesota Family Council, will tell us at our May meeting how he fought to make conservative voices of  reason and traditional values heard in the legislature and to fend off laws that are most offensive to us.                           
In our first hour Elaine Loesch, president of Metro Republican Women, will tell  us about their mission to bring together women of all ages and occupations to promote conservative ideas and to support Republican candidates for public office.

Then we will have Two Cents for Two Minutes. Tell us what's on your mind about current events.
Date: Tuesday, May 9, 2023
Time: 9:30 a.m. sign in and casual conversation, 10:00 a.m. convene
Place: Knights of Columbus/Bloomington Event Center
1114 American Boulevard West, Bloomington*
Cost: $5/member, $10/non-member
Election Integrity: David Clements, The Greater Magistrates Tour: Eliminate Rigged Machines, Minimize Fraud, Stand in the Gap. Sunday, May 7th, 3:30-5:30PM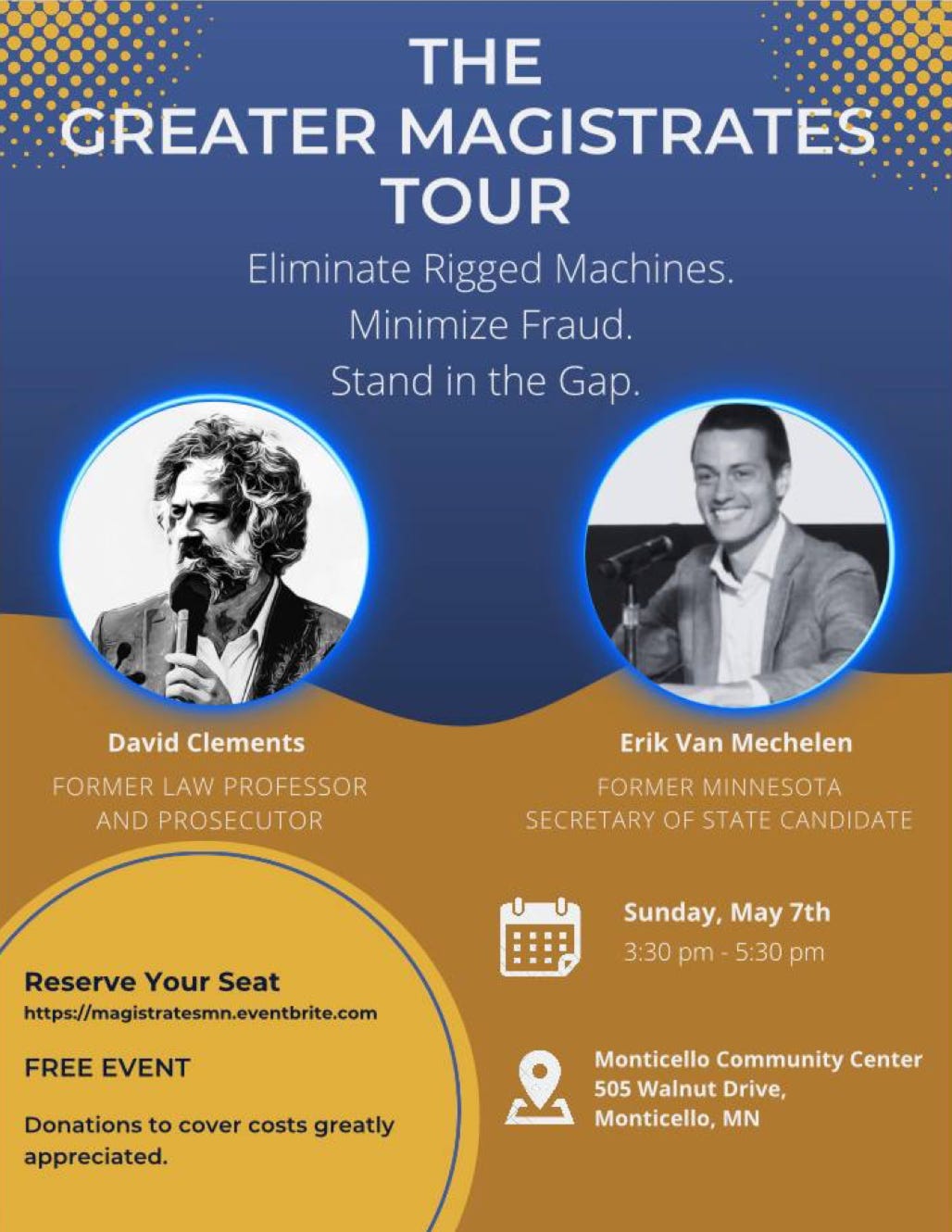 On May 7 at 4pm - 5:30mp, don't miss the next event focused on election-evidence...
David Clements, former professor and prosecutor, will walk people through the entire voting process, input to output, identify the vulnerabilities, then provide proof of the vulnerabilities exploited. He will then provide a prescription of local advocacy.
The tour name relates to Matthew J. Trewhella's book, The Doctrine of Lesser Magistrates: A Proper Resistance to Tyranny and a Repudiation of Unlimited Obedience to Civil Government - read free here: https://archive.org/details/doctrineoflesser0000trew
Reserve your seat for free - first 45 tickets receive free signed copy of first edition of [S]elections in Minnesota: An Introduction to How Machines Controlled 2020 and Why We Must Return to Hand Counting Paper Ballots.
Additionally, at the event, a small table will include handouts from select counties detailing work being done on the ground in the past three years—this is chance to get involved if you have not already done so by meeting those who have led the way.
There will also be a 'book club' signup for those wishing to exchange reading material and other references in the weeks and months to come.
Join us and bring a family member or friend, especially a skeptical one.
CD5 Convention Election Results
The 2023 CD 5 convention convened at the VFW Post No. 494 in Crystal, Minnesota. The convention included several guest speakers, including Liz Collin, author of "They're Lying" who spoke about her book and her work with Alpha News.  Along with adoption of the new Minneapolis GOP (a single Organizing Unit of five separate SDs), the election of Congressional District Party Officers and Delegate/Alternate to MN GOP State Central Committee was completed.  A listing of elected officers and delegates follows:
| | | | |
| --- | --- | --- | --- |
| Alec Beck | Chair | Ramona Anderson-Rowett | SD39 Representative |
| Darrel Trulson | Deputy Chair | Jim Long | Chair, SD-43 |
| Barry Johnson | Secretary | Mike Held | SD46 Representative |
| Tim Kirks | Treasurer | Teri Hovanec | SD50 Co-Chair |
| Patty Mesenbrink | At Large Member | Wayne Peterson | SD51 Representative |
| Robert Olson | At Large Member | Shawn Holster | Chair, Minneapolis GOP |
| Ken Wendling | At Large Member | Don Bumgarner | Co-Chair, SD38 |
| Lincoln Towers | At Large Member | Paul Anderson | Chair Emeritus |
| Christina Pierson | At Large Member | Diane Napper | State Central Delegate |
| Adam Davis  | At Large Member | Tim Miller | State Central Alternate |
                     Caucus Date for 2024 Released

                         
Mark your calendars and plan to be there!  The date for the 2024 Republican Caucus is Tuesday, February 27, 2024, at 7:00PM.  SD50 Republicans will begin planning for this event soon.  If you are interested in volunteering, please contact Sarah Knapp at [email protected] Thank You!
Convention Timeframes Released
Although not all dates and locations have been determined, here is an advanced look at the timeframe for upcoming Republican Conventions:
BPOU conventions : 

Sat. March 9 through Tue. April 16

CD Conventions: 

Sat. April 27 through Wed. May 15

State Convention – Location TBD: 

May 16 to 18

RNC Convention in Milwaukee : 

July 15 to 18
MN Parents Alliance - School Board Candidate Training - May 13th
Don't miss this rare opportunity designed for candidates, potential candidates and campaign helpers. Learn how to launch and execute a successful school board campaign from professional strategists, local election experts, experienced campaign managers and current board members. Bloomington and Edina have openings for School Board this current election cycle.
*Breakfast and lunch included
Agenda and location details will be shared privately. 
Date & Time
Sat, May 13, 2023 8:00 AM - 4:00 PM
Volunteers Needed!
SD50 GOP is in specific need of volunteers in the following areas:
1. Web Design  - Would love a volunteer to spend time to improve our web site. If that is your passion, reach out! 
2. Events - Looking for assistance with some upcoming events: Edina July 4th Parade (pending acceptance by parade committee), Republican SD50 Caucus (Date Feb 27th),
and SD50 Family Picnic, Date TBDC
3. Candidate Openings - Edina and Bloomington both have School Board Openings!  Have you always thought of running but did not know how?  Now could be your opportunity!  We are here to help. Consider attending the MN Parents Alliance Training detailed above. Questions?  Contact SD50 at [email protected]
To find out more information or to volunteer please email Sarah Knapp at [email protected]
That's all for now.  
As always, we want to hear from you!
Send ideas, comments, information, willingness to volunteer (we need lots of help) to Sarah at [email protected]
Do you like this post?
Share this